Second Chance Act Spotlight: Byron Davis, Birmingham, Alabama
By CSG Justice Center Staff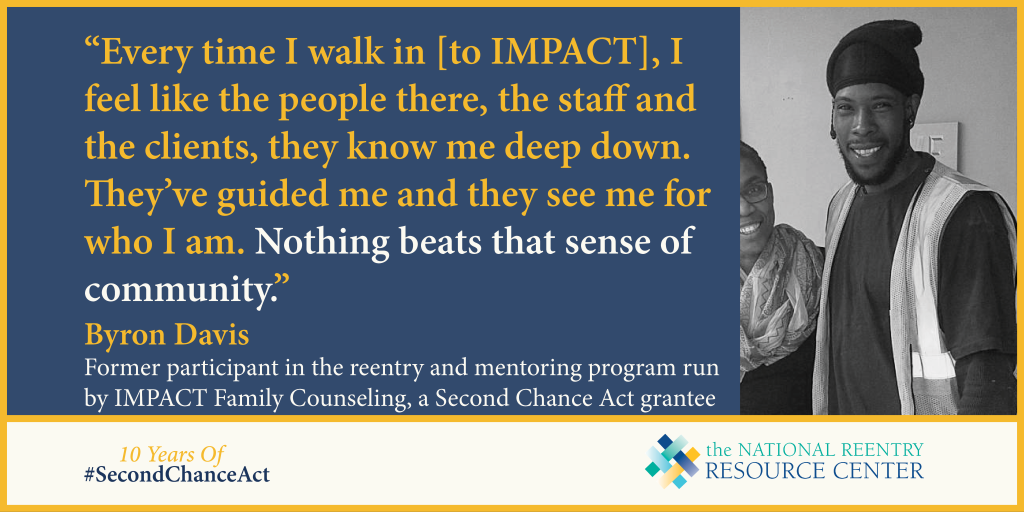 Byron Davis used the end of his sentence in Limestone Correctional Facility near Huntsville, Alabama, to get ready for his next step: searching for work back home in his community, just outside of Birmingham.
He intended to put his conviction for dealing drugs behind him.
"I don't want to go back to that," Davis said. "But I need to work, to make a living."
Davis met staff from
IMPACT Family Counseling
on the inside at Limestone, where he served a 26-month sentence. A faith-based organization, IMPACT runs pre-release reentry coaching and skills-building classes for people in the correctional facility, who may continue to participate in IMPACT's post-release programs when they return home.
Davis said that the pre-release classes gave him a mental checklist for planning his reentry. They helped him not only identify what he needed to successfully reenter his community, but also recognize the supports he already had in place. Davis was fortunate to have secure housing—on the day of his release, he could go home to his own family. But he needed help in other areas: he had to get a handle on the skills he would present to an employer and prepare for job interviews where he might need to speak about his past conviction.
Whereas that mental checklist defined the "what" of his reentry, Davis said it was the relationship he built with one of IMPACT's mentors that helped him figure out the "how."
And Davis credited his mentor, Nigel Hodges, with helping him achieve one of his reentry goals: "I was hoping for what I got now, which is a job."
IMPACT's pre- and post-release reentry services include cognitive behavioral therapy, anger management, and group counseling, such as parenting support groups. For certain eligible participants, IMPACT supplements this group counseling with mentors, who meet individually with participants to help them through the challenges they may encounter in the reentry process. In 2014, IMPACT received a Second Chance Act grant to support the hiring and training of mentors like Hodges, who started pre-release contact with Davis in summer 2016 and continued to meet with him regularly after his release in December of that year.
Since the mentoring program was fully implemented in October 2015, IMPACT has served 219 participants through one-on-one mentoring, 180 of whom have been released from prison. Of those, 113 have completed IMPACT's 12-month post-release program to date.
IMPACT staff collaborate with correctional facilities so that mentors meet or chat with a participant at least once prior to release, before picking up regular meetings once participants return to their community. IMPACT's group of approximately 12 rotating mentors includes some who represent a local organization called the
Offender Alumni Association
and were once incarcerated themselves.
"Because Byron re-entered society with an established home plan and no outstanding fees, the primary goal for him was to gain employment and remain connected to positive support systems [at] IMPACT," Hodges explained.
Participants meet with their mentors as often as weekly, depending on their assessed risk of recidivism. But in Davis's case, the schedule was lighter and more flexible as he began the full-time task of searching for work—which wasn't without its challenges. According to the National Inventory of Collateral Consequences of Conviction,
Alabama has 842 recorded laws or regulations that enforce collateral consequences
, which limit or prohibit people who have criminal records from accessing employment, occupational licensing, housing, education, and other opportunities.
IMPACT mentors know that, because of these barriers, their participants who are looking for work may struggle to find jobs for which they are eligible, experience more rejections, and stay out of work far longer than people without records.
"IMPACT [staff] always said, 'There might be doors slammed in your face. Whatever happens, do not give up,'" Davis recalled.
He said that his mentor urged him to focus on knowing what his job skills were, describing them clearly, and finding a way to talk about his record in a way that allows prospective employers to see it in context. Hodges was also there at the other end of the phone if Davis ever had a frustrating day or experienced rejection.
"If I needed someone to talk to, I could always rely [that] he'd be around," Davis said.
He was eventually hired in fall 2017 to work for a construction firm, where he starts work every day at 7:30 a.m. Davis believes that his success in the job search came down to the intensive one-on-one discussions he had with Hodges, who supported him as he learned to put his best self forward.
"I'm a really hands-on guy," he said. "I know my skills, and one of them is that I'm a quick learner—if I don't know something, I can pick it up."
More than a year after his release, Davis has stayed in close contact with IMPACT staff. Whenever he went more than a few days without contact, Hodges would reach out.
"I don't mean just on the phone—I mean he would stop by and see me in person," Davis said. "There's a saying, 'Out of sight, out of mind.' If someone takes the time to think of me, check in on me, putting what they're doing on pause, well, that's different. I appreciate that."
Davis also regularly participates in IMPACT's Family Day with his three youngest children. Guiding the kids between games and snacks, Davis also gets to socialize, catching up with both his friends from IMPACT classes and the mentoring staff who have become part of his circle.
"Every time I walk in there, I feel like the people there, the staff and the clients, they know me deep down," Davis says. "They've guided me and they see me for who I am. Nothing beats that sense of community."