Snapshot: Health Care and Behavioral Health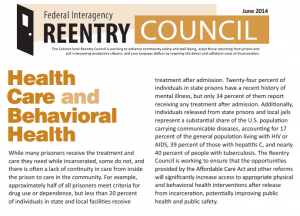 While many prisoners receive the treatment and care they need while incarcerated, some do not, and there is often a lack of continuity in care from inside the prison to care in the community. For example, approximately half of all prisoners meet criteria for drug use or dependence, but less than 20 percent of individuals in state and local facilities receive treatment after admission. Twenty-four percent of individuals in state prisons have a recent history of mental illness, but only 34 percent of them report receiving any treatment after admission. Additionally, individuals released from state prisons and local jails represent a substantial share of the U.S. population carrying communicable diseases, accounting for 17 percent of the general population living with HIV or AIDS, 39 percent of those with hepatitis C, and nearly 40 percent of people with tuberculosis. The Reentry Council is working to ensure that the opportunities provided by the Affordable Care Act and other reforms will significantly increase access to appropriate physical and behavioral health interventions after release from incarceration, potentially improving public health and public safety.
To download this Snapshot, click
here
.