Second Chance Act Spotlight: Darius Dennis, Norfolk, Virginia
By CSG Justice Center Staff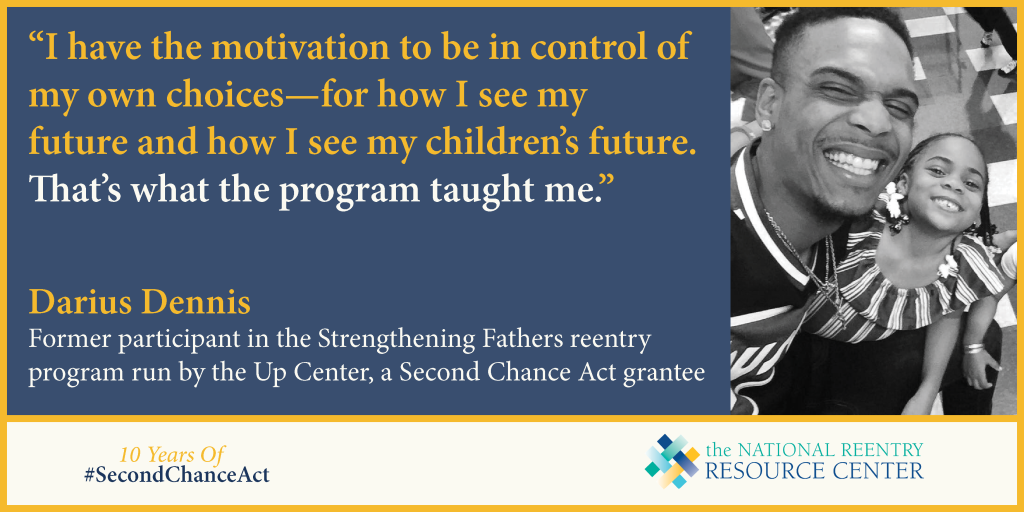 "When I got out, my kids were my number one priority."

Darius Dennis couldn't have predicted how intertwined his path to reentry and the well-being of his young family would be when he left jail in 2017. Today, more than a year after completing the Strengthening Fathers reentry program, Dennis not only hasn't reoffended, but is working to be an active, engaged father.

"I had to feel ready," Dennis said recently of his mindset as a father leaving incarceration.

Dennis was in custody a number of times between 2012 and 2016. In the summer of 2012, between semesters as a student at Virginia State University, his involvement in an altercation at a basketball game led to an assault charge and fines that Dennis said he couldn't pay. He eventually dropped out of college and, while working part-time cleaning at a hospital, Dennis said he began selling drugs. After being arrested in 2014 with drugs and a handgun, Dennis was placed on probation and completed substance addiction treatment. But when his brother was shot and killed in 2015, Dennis said he began smoking marijuana again. He was remanded from probation to Norfolk City Jail for a year after a routine drug test turned up positive in 2016.

Dennis earned early release from jail through successful completion of two pre-release programs. As his April 2017 release date approached, "I would find myself thinking all the time about how [my kids] depend on me," Dennis said. "That's what I mean when I say I needed to feel ready … ready to handle whatever things are like when I got out, which I didn't know, but also ready to handle whatever might change."

When he went from jail back to probation at age 23 with three young children, Dennis was told he was eligible for Strengthening Fathers, a Second Chance Act grant-funded program that is operated by The Up Center in Norfolk, Virginia. Strengthening Fathers specifically targets young male parents between the ages of 18 and 24 who are completing a term of incarceration. Research shows that families of incarcerated people experience collateral consequences during and after a family member's sentence, and children of incarcerated parents can be especially affected. Reentry programming that focuses on parental engagement aims to mitigate some of these consequences.

Dennis said that Strengthening Fathers sounded like it was built for him—and he was amazed that it was available locally. Between August 2017 and May 2018, 17 young fathers completed the pre-release stage of the yearlong Strengthening Fathers program. After release, the program focuses intensively on two goals: promoting family engagement and reducing recidivism among participants. To reach those goals, the program requires that participants attend sessions with a life coach and work with a case manager. Participants also have the option of joining group classes to build parenting skills.




A case manager assessed Dennis's needs and developed a case plan to help him fulfill his role supporting three children under the age of six, who at that time lived apart with different mothers. In the group parenting classes he attended, he began to think about strategies that could help those family dynamics, especially with his children's co-parents. Through class discussions about child support and the ongoing stresses of parenting, Dennis said he resolved to approach each conversation with his children's mothers as an opportunity to listen, rather than to talk. With support from Strengthening Fathers staff, he submitted dozens of job applications, and was hired several months ago as a cashier in a takeout restaurant.

"I knew I needed a job with that kind of flexibility, so that if one of the kids needs some help, I can work it out with my schedule," he said.

Just as he was settling into his post-release programming, Dennis got a call from staff at the child welfare agency monitoring his five-year-old daughter Kalani, who has chromosome deletion syndrome and has been diagnosed with autism.

"They told me, basically, 'you need to come and take her,'" Dennis recalled. Visiting social workers found that Kalani's living situation with her mother was unstable, and both Dennis and Kalani's mother agreed that she would have a better home life with her father. Dennis now has full custody of Kalani, his middle child.

"This is why my employment situation works well for me right now—I can be there for her a lot," he said. "But there were challenges. When Kalani came to live with me, I needed to use all my skills and all my confidence."

Amidst all of this change, Dennis's life coach at Strengthening Fathers, Michael, revealed something they had in common: "He told me that both of us had middle children who have autism," Dennis said. "I couldn't believe it really, that while we both had a lot of experiences that were far apart, my life coach and I could be sharing such a unique experience."

Dennis said it was vital for him to see another parent with similar challenges admit that he didn't have all the answers. Michael made sure that a case manager connected Dennis with organizations that supplied necessities like free diapers, as well as a service offering home visits from counselors who specialize in child welfare and development.

"That was really in-depth," Dennis recalled. "They would come meet with us at home, and walk me through simple questions. What exactly my daughter likes, or how I should behave if she's doing this or that."

Although Kalani is nonverbal, Dennis believes that the counseling, coupled with the attention he gives, is making a difference in his daughter's progress: "In two months, I've noticed a drastic change," he said. "She is even eating with utensils now."

With support from Michael and the Strengthening Fathers program, Dennis said he feels more and more connected to a community that serves parents of children who have special needs.

"I have the motivation to be in control of my own choices—for how I see my future and how I see my children's future," Dennis said. "That's what the program taught me. So it was absolutely the right thing for me at the right time."

Learn more about keeping fathers engaged in reentry programs and involving families in the reentry process.