Kansas Second Chance Act Grantee Helps Secure Tech Jobs for Women Returning Home from Prison
By Mai Tran, CSG Justice Center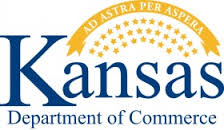 The Topeka Correctional Facility—Kansas's only female correctional facility—is easing barriers to employment for women reentering their communities from prison with Commerce Technology Career Training, a first-of-its-kind program that equips women with marketable, certified skills in the manufacturing technology field.

The Kansas Department of Commerce (Commerce) received funding for the program in October 2014 from the Bureau of Justice Assistance as part of U.S. Department of Justice's FY2014 Second Chance Act Technology Career Training Program. Prior to the launch of the program, there were no formal vocational skills training opportunities for women at the facility.

Since then, 120 women have graduated from the 5- to 9-week program and received Certified Production Technician certificates. Nearly 70 of these women have returned home to their communities. Program staff have so far been able to track two-thirds of the graduates—12 are now employed in the manufacturing technology field and 2 are enrolled in the Manufacturing Technology Associates program run by Washburn Institute of Technology (WIT), the same technical college that teaches the facility's certificate program.

In total, 29 women are earning an average of $12 an hour—nearly $5 above the state's minimum wage. Only two have returned to the correctional facility.

Support at Every Stage

In developing the Commerce Technology Career Training program, Commerce staff recognized the demand in the state for employees who have manufacturing technology skills, and focused on support for hiring individuals with criminal records from employers in the field. The base for a successful program, according to Commerce grant coordinator Kathie Harris, lies in effective partnerships and collaboration between all project parties. In other words, she says, "cultivating a shared vision."

This collaboration starts in the classroom, where women who are involved with the program learn hands- on skills from WIT instructors Brian Turner and Stephen Arney. Grant coordinator Harris then meets with business owners and employers at job fairs and local Workforce Investment Board meetings to inquire about job openings and advocate for women in the program.
Program participants meanwhile turn to Beth Hill, WIT job readiness coach, to help put together their resumes. These resumes are created on a student-accessible laptop—with no Internet connection—and loaded onto a thumb drive. Hill then sends these resumes to Harris, who matches the skills and interests of each program participant with job opportunities, and sends applicable resumes to employers. Hill also prepares the students for interviews and coaches them on how to acknowledge and answer questions about their criminal record.
Tips for Establishing Effective Partnerships
Cultivate meaningful relationships
Maintaining strong relationships between all project parties—Commerce, WIT, and Corrections—has helped facilitate the project. Because of Harris's history working with the Kansas Department of Corrections, she is able to seamlessly partner with the agency.
If a relationship does not already exist, "Start one—take time to get to know your partner," Harris said. "Meet with them, let them know who you are, and get them to trust you."
Maintain strong lines of communication
Everyone involved in the project is kept informed of developments. "I see myself as the glue," Harris said. "I email everyone who is involved [when there is an update], so that everyone is on board."
Questions and open dialogue between partners are also encouraged. "[Topeka Correctional Facility] Deputy Warden Colene Fischli's door is always open, so I can go in and talk to her at any time," said Turner, the WIT instructor.
Make critical decisions together
From the beginning, selecting students for the program is a collaborative effort. Turner and WIT job readiness coach Hill meet regularly with Greg Perez at the Kansas Department of Corrections to assess each application and select which students to enroll.
Mobilize an effective leader
Harris is more than just a grant coordinator—she is a leader who believes in inspiring a shared vision. To enhance her leadership skills, she took a leadership training course at the National Institute of Corrections.
"Understanding the principles [of effective leadership] helps me to develop and nurture partnerships," she said.
Involve committed, passionate people
Having a team of committed people who are passionate about the project is important, and has been the "main thing that has allowed the program to be successful," Turner said. "We are all focused on the same goal and outcome, which is to help students secure employment at a living wage, so they can provide for themselves and their families."