How State Higher Ed Leaders Are Expanding College in Prison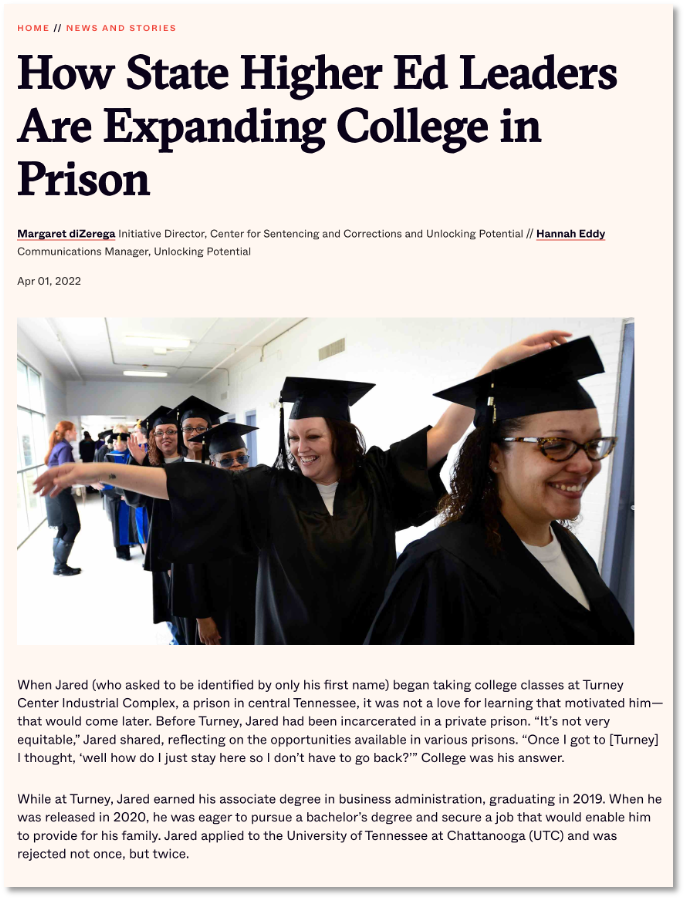 This story from Margaret diZerega, Initiative Director for the Vera Institute of Justice's Center for Sentencing and Corrections and Unlocking Potential and Hannah Eddy, Communications Manager for Unlocking Potential, discusses the "closed doors" many individuals with a criminal record face in pursuing post-secondary education and highlights the forthcoming reinstatement of federal need-based financial aid—or Pell Grants—for people in prison as a solution with the potential to open many doors come July 1, 2023.
As the story explores, across the United States, education and corrections leaders are preparing for a wave of new colleges, particularly four-year universities, to launch programs in prisons. The authors discuss that, anticipating this new opportunity to expand access, states like Colorado and Tennessee have begun to bring together four-year and community colleges, departments of corrections, education-focused nonprofits, and—for the first time—state departments of higher education to foster communication among these partners, improve collaboration, and begin creating more effective state systems for higher education in prisons.
Learn more about the potential impact of reinstated Pell grants