Fair Chances to Opportunities Request for Proposals
Application Deadline: May 23, 2023, 11:59 pm Eastern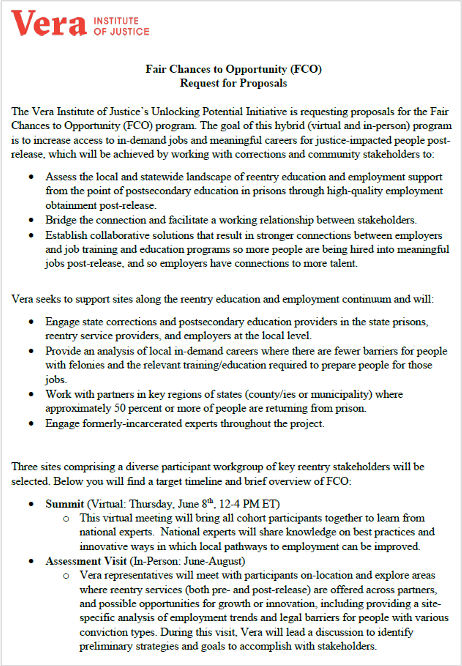 The Vera Institute of Justice (Vera) is launching a pilot program to help states improve the pathways from pre-release postsecondary education through post-release employment opportunities.
A range of stakeholders for each of the selected states, including correctional partners, colleges, non-profit organizations, and individuals with lived experience, will be engaged through collaborative learning and goal-setting to effect longstanding change. 
The goal of this hybrid (virtual and in-person) program is to increase access to in-demand jobs and meaningful careers for justice-impacted people postrelease, which will be achieved by working with corrections and community stakeholders to:
Assess the local and statewide landscape of reentry education and employment support from the point of postsecondary education in prisons through high-quality employment obtainment post-release.
Bridge the connection and facilitate a working relationship between stakeholders.
Establish collaborative solutions that result in stronger connections between employers and job training and education programs so more people are being hired into meaningful jobs post-release, and so employers have connections to more talent.