Eligibility of Confined or Incarcerated Individuals to Receive Pell Grants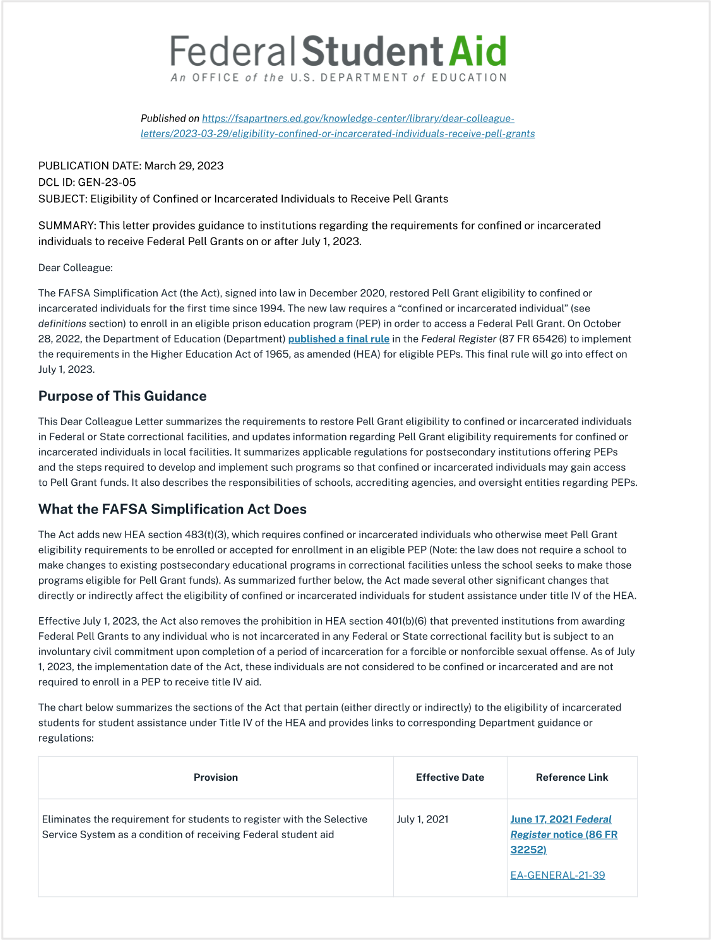 The FAFSA Simplification Act (the Act), signed into law in December 2020, restored Pell Grant eligibility to individuals who are confined or incarcerated for the first time since 1994. The new law requires a "confined or incarcerated individual" to enroll in an eligible prison education program (PEP) in order to access a Federal Pell Grant.
On October 28, 2022, the Department of Education (Department) published a final rule in the Federal Register (87 FR 65426) to implement the requirements in the Higher Education Act of 1965, as amended (HEA) for eligible PEPs. This final rule goes into effect on July 1, 2023.
This Dear Colleague Letter from the Department's Office of Federal Student Aid summarizes the requirements to restore Pell Grant eligibility to confined or incarcerated individuals in Federal or State correctional facilities, and updates information regarding Pell Grant eligibility requirements for individuals who are confined or incarcerated in local facilities.
The letter summarizes applicable regulations for postsecondary institutions offering PEPs and the steps required to develop and implement such programs so that confined or incarcerated individuals may gain access to Pell Grant funds. It also describes the responsibilities of schools, accrediting agencies, and oversight entities regarding PEPs.