Critical Connections
Getting People Leaving Prison and Jail the Mental Health Care and Substance Use Treatment They Need
What Policymakers Need to Know about Health Care Coverage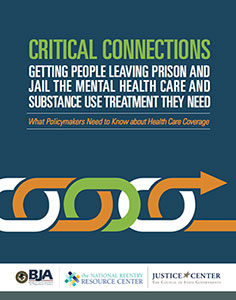 The CSG Justice Center's National Reentry Resource Center released a discussion paper that identifies key questions and issues every policymaker should consider when seeking to help people leaving prison and jail connect to needed mental health and substance use treatment. All states, regardless of the scope of their Medicaid coverage, can use this paper to ensure prisons and jails are positioned as effective hubs for helping eligible people get public health care coverage and social security and veterans benefits. This assistance can help facilitate easier access to treatment and help reduce recidivism as part of a comprehensive reentry effort.
Critical Connections: Getting People Leaving Prison and Jail the Mental Health Care and Substance Use Treatment They Need—What Policymakers Need to Know about Health Care Coverage highlights examples of local practices and legislative and administrative actions drawn from 30 states. With support from the U.S. Justice Department's Bureau of Justice Assistance, the paper illustrates how policymakers have used a wide range of strategies to improve connections to health care coverage and treatment.
Five Issue Areas for Connecting People Leaving Prison or Jail to Behavioral Health Care
Issue 1:

Identifying Enrollment and Eligibility Status

This section discusses the importance of developing the infrastructure and routine processes to identify people with health needs in prisons and jails who are potentially eligible for Medicaid, Supplemental Security Income/Social Security Disability Insurance (SSI/SSDI), and veterans health care and benefits. Discussion questions and examples focus on issues such as who gets screened, how, who conducts the screening, and when.

Consideration 1:

What policies exist in your state to identify people who are enrolled in Medicaid, SSI, and SSDI when admitted to prison and jail, and those who are eligible to receive benefits upon release?

Issue 2:

Maintaining Enrollment and Reactivating or Reenrolling in Benefits upon Release

This section examines states' discretion to suspend (sometimes for limited periods) or terminate Medicaid coverage for incarcerated people, and it discusses when Social Security and veterans benefits are sustained. Implementation examples, eligibility redetermination processes, data system challenges with reactivating benefits, and other issues that inform action planning with benefit agencies are considered.

Consideration 1:

For people who were enrolled in Medicaid when admitted to prison or jail, what policies does your state have in place to continue or reinstate enrollment so that they can access their benefits for allowable inpatient care while incarcerated, and fully upon release?

Consideration 2:

What policies or processes does your state have in place to facilitate reinstatement of SSI or SSDI when people are released from prison or jail?

Issue 3:

Assisting with Applications

Although screening raises many of the same questions as are raised when assisting with applications (who should do it, when, how, and with what funding), the answers often differ. This section illustrates the range of application processes being used for Medicaid and SSI/SSDI and the impact of length of stay, available staffing, data structures, and privacy mandates.

Consideration 1:

What policies and processes does your state have in place to help ensure that applications are appropriately filed so that eligible people will leave facilities with access to Medicaid and SSI/SSDI benefits?

Consideration 2:

Does your state use presumptive eligibility provisions that allow entities other than hospitals to apply for temporary Medicaid enrollment for incarcerated people, with processes in place for full enrollment to follow?

Consideration 3:

What policies, if any, does your state have to link SSI and SSDI determinations to Medicaid and Medicare enrollment?

Issue 4:

Examining Medicaid-Reimbursable Behavioral Health Services in the Community and Addressing Gaps

This section looks at three challenges to effecting meaningful change: (1) Medicaid state plan changes to ensure behavioral health care coverage, (2) service delivery that addresses the "whole person," and (3) community capacity inventories and planning to improve care and provider availability. A list of state mechanisms to conduct these activities is provided. Federal law and guidance is reviewed on issues such as Alternative Benefit Plans and Essential Health Benefits, new opportunities regarding "Institutions for Mental Disease" (IMDs), mental health parity mandates, health homes, and incentives for providers.

Consideration 1:

Are the treatments and services associated with positive outcomes for people with behavioral health needs leaving prison and jail covered by your state Medicaid program? If not, how can the benefit plan(s) be shaped further to cover gaps?

Consideration 2:

What mechanisms can your state use to improve the delivery of Medicaid-reimbursable behavioral health services for people who have returned to the community from prison and jail?

Consideration 3:

How can community-based treatment capacity be expanded at both the network and provider levels?

Issue 5:

Tracking Progress

This section examines which eligibility and enrollment activities should be tracked, acknowledging that gauging progress even on how many people are screened for eligibility, how many have applications submitted, and how many are successfully enrolled/sustained in these programs can be difficult, especially if there are inadequate automated systems. State and county data collection snapshots are provided from several jurisdictions, as well as discussions regarding improving analysis and reporting that can guide policy decision making.

Consideration 1:

Does your state track how many eligible people in prison or jail are successfully enrolled in Medicaid and SSI/SSDI benefits that they can access upon release, as well as how many veteran referrals were made, when applicable?