Clearing a Path, from Conviction to Employment
By Madeline Neighly and Ashleigh Fryer, CSG Justice Center Staff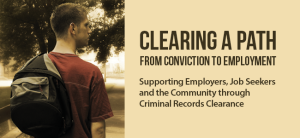 When Ronald was convicted in 2006 of two misdemeanors—possession and retail theft—
he was sentenced to five years probation. Although he wasn't given jail time, the sentence he'd serve in
the community would be, in some ways, just as difficult.

"After the conviction, I tried to do things right in my life—I went back to school, I thought I was turning a corner," Ronald said. "Then you see all the roadblocks in your way. I felt like I was incarcerated minus the bars out there.

"Despite the three occupational licenses and eight certificates Ronald earned in the years following his conviction, he found himself in job interview after job interview where his chance at receiving an offer of employment was contingent upon his answer to one question: Do you have a criminal record?

"It's the dreaded question," he said. "And no matter how qualified I am, no matter how much they love me before I answer that question, it's over when they find out about the conviction."

Collateral Consequences and Fair Chances


Millions more like Ronald—roughly 1 in 3 adults in the U.S.—have a criminal record, and many of them face significant challenges related to employment.

Access to employment is a critical component of the support that research says helps keep people from returning to the criminal justice system, as a steady job provides financial resources and social connections that build motivation.

After a conviction, people often face severe, unanticipated penalties beyond the court's sentence, commonly known as collateral consequences. More than half of all collateral consequences are employment related, according to the National Inventory of Collateral Consequences of Conviction. For example, in an effort to advance public safety and ensure high-quality services, states require licenses for particular businesses or occupations, such as health care professionals, transportation specialists and cosmetologists. In half of all states, applicants can be denied an occupational license due to a criminal conviction, regardless of its relevance to the license sought or how long ago it occurred, according to a 2015 White House report.

In addition to being denied licensure, people with criminal records face other consequences related to securing employment. According to a 2010 study by The Pew Charitable Trusts, a man who has been incarcerated for a felony is estimated to earn $15,600 less annually than if he had not been incarcerated. Nationally, there is a total estimated loss of $78 billion to $87 billion to the economy every year as a result of people with criminal records being unemployed or underemployed, according to the Center for Economic and Policy Research.

While this underutilization of many in the nation's workforce affects the entire country, the impact is more pronounced for people of color, who are more likely to be arrested and convicted.

With large numbers of working-age people carrying the stigma of a criminal record—and the disproportionate impact on communities of color—policymakers nationwide have adopted a menu of reforms. According to the National Employment Law Project, 24 states and more than 100 localities have adopted "fair chance" or "ban the box" policies that delay inquiry into an applicant's criminal record and build off the U.S. Equal Employment Opportunity Commission's guidelines on the use of arrest and conviction records in employment decisions.

In addition to fair hiring laws, employers, chambers of commerce, policymakers and advocates from across the political spectrum also are considering policies that clear some types of criminal records. These policies aim to benefit both employers and job seekers.

The Impact of a Criminal Record on Job Callbacks

Studies have shown that the existence of a criminal record can reduce job callbacks by 50 percent on average. Further, there are racial differences in the effects of a criminal record. In a 2003 study titled The Mark of a Criminal Record, Devah Pager found that while the existence of a criminal record reduced the likelihood of a callback for white applicants seeking entry-level positions by half—from 34 percent to 17 percent—black applicants with a criminal record saw their callback rate drop by nearly two-thirds—from 14 percent to 5 percent.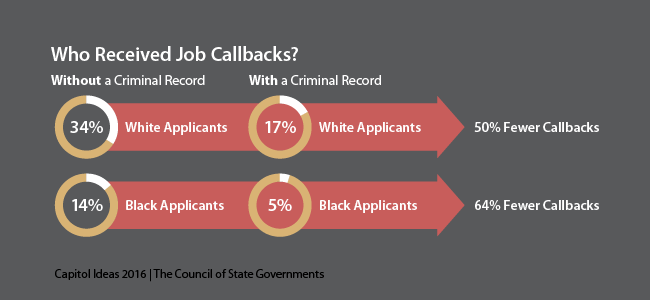 Surveying the National Landscape


Criminal records clearance laws aim to seal, expunge, set aside, vacate, dismiss, remove or otherwise shield "stale" criminal records from easy public access—most often with the goal of improving employment outcomes for people with criminal records.

Typically, the risk of a person with a criminal record committing a new offense is most acute in the first six months after their release. That risk begins to decline at one year post-release, and declines significantly after three years, according to the U.S. Department of Justice's Bureau of Justice Statistics. Further, "if a person with a criminal record remains crime free for a period of about 7 years, his or her risk of a new offense is similar to that of a person without any criminal record," according to a 2007 study published in Crime & Delinquency.

In 2015, The Council of State Governments' Justice Center began a 50-state review of statutes that govern the clearance of criminal history information. Thirty-five states currently permit clearance of some misdemeanor convictions and 28 of those states also permit clearance of some felony convictions. Each state with a record clearance policy determines which records are eligible for clearance and which are ineligible, and there is much variation among states. Even non-conviction arrest records may have a negative impact on a person's employment prospects, and these records are also available in several states.

For misdemeanor convictions, the eligibility waiting period currently ranges from immediately after sentence completion to as much as 15 years, but most states place eligibility at one, three or five years after sentence completion. For felony convictions, the eligibility waiting period ranges from immediately after sentence completion to 20 years, but a majority of states place eligibility at either five or 10 years after sentence completion.

Between 2009 and 2014, at least 23 states and the District of Columbia enacted more than 37 laws to increase the scope of their sealing and expungement remedies, according to a 2014 Vera Institute of Justice report. Some of the ways in which states expanded the scope of those remedies include:
Rewarding education. Effective this year, Illinois waived the two- or three-year waiting period for clearance if a person earns a high school diploma, associate degree or other specified educational achievements while serving his or her sentence.
Automating procedure. In 2015, Washington state began holding regular record clearance hearings for juvenile offenders. At disposition, the juvenile is scheduled for the next regularly scheduled clearance hearing following his or her 18th birthday or the anticipated sentence completion date. It is expected that the records will be cleared at this hearing absent objection from the prosecutor's office.
In Pennsylvania, bills with bipartisan support are moving through both houses that would automatically seal adults' low-level misdemeanor offenses—like those Ronald was convicted of—after 10 years. This bill comes after a 2015 law permitting clearance of misdemeanor offenses by petition.
Engaging employers. In 2016, Kentucky passed legislation permitting clearance of low-level felonies. While similar legislation had been proposed previously, it is believed that the engagement by the Kentucky Chamber of Commerce led to this success. The Kentucky Chamber and other stakeholders encouraged policymakers to permit record clearance for certain felonies, which they hope will have a long-term benefit to both employers and people seeking jobs.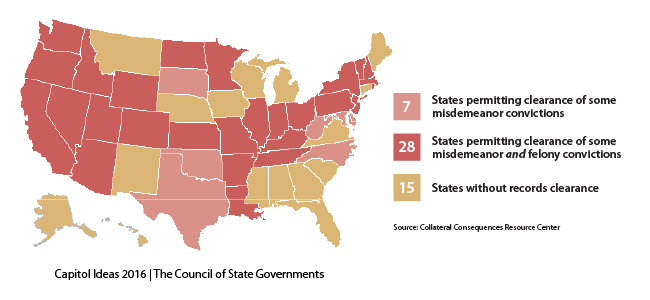 Questions to ask about your state's criminal record clearance policies Are cleared records actually cleared? Criminal history information may be available from a variety of sources, including the state repository and court records; state policies that permit clearance from one database do not always ensure clearance from the other. After the criminal records are cleared by the state, they may continue to be reported on commercially prepared background checks because the information is gathered from the database where the record might not have been cleared. Clearance legislation must address each source of publicly available records—as well as the intended effect of the record clearance policy.

Which records are eligible for clearance? States that permit felony record clearance frequently limit its application to low-level felonies. There are usually fewer restrictions on misdemeanors, but in both felony and misdemeanor clearance policies, violent and sex offenses are often excluded. The process of determining what types of convictions are eligible for clearance—which are established in statute—provides an opportunity for policymakers to consider racial disparity in the criminal justice system. For example, black people are arrested for marijuana use at a higher rate than white people, despite roughly equal usage, with some counties having a disparity of 10 to 1 in arrest rates, according to data from the FBI's Uniform Crime Reporting program and U.S. Census data from 2001 to 2010. Policies that permit clearance of old drug convictions may help address this problem.

When are records eligible for clearance? Policymakers should ensure that waiting periods are appropriate to the offense and informed by available research to increase employment opportunities and maintain public safety.

What is the process for clearance? Currently, most record clearance policies require that people petition to clear their records. In many states, this is true even for arrests that do not result in a conviction. This process may involve submitting a petition to the court clerk or participating in a court hearing. Policymakers should consider automating the process to reduce court costs and increase access.

How much does it cost a person to clear a record? States frequently charge to file a record clearance petition. The fees can range from no cost to $500, but most commonly fall between $50 and $250. To ensure fees do not undermine a person's ability to clear his or her record, policymakers should consider reducing these fees and providing waivers for people who are indigent.