Southern States Discuss Challenges and Opportunities Related to Hiring Adults with Criminal Records
By the CSG Justice Center Staff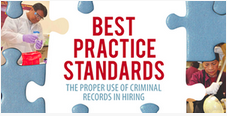 An estimated 70 million people in the U.S. have a criminal record, and the South is the region with the highest incarceration rates per capita. Research shows that having a steady job can significantly increase the likelihood of success for someone returning home from prison, but oftentimes such individuals can't get jobs, not necessarily because they're underqualified, but because employers are wary of hiring people who have criminal histories.

On May 18, more than 100 policymakers, business representatives, and community service providers from seven southern states—Alabama, Florida, Georgia, Mississippi, North Carolina, South Carolina, and Tennessee—came together in Atlanta at the Southern Regional Summit on Fair Hiring to discuss creating employment opportunities for adults with criminal records.



Fair Hiring Policies

Early this year, Georgia became the first state in the South to implement "Ban the Box," a fair-hiring policy that seeks to ensure that job applicants with criminal records can show a potential employer their qualifications before revealing their criminal histories (Georgia's law applies to state government positions only). "Box" refers to the job application checkbox that people with criminal records are asked to tick.

Across the country, 16 states and over 100 cities and counties have passed similar fair-hiring laws, and many private employers are following suit. For example, Gulfstream Goodwill in Florida has removed all questions about criminal records from its job applications. "We practice what we preach. Today, 36 percent of our retail employees have records," said Jessica Hidalgo, program coordinator of RESTORE and Re-Entry at Gulfstream Goodwill.

Fair-hiring policies do not limit employers' access to information about potential candidates' criminal records. Rather, the policies delay questions about criminal history until later in the hiring process. This allows employers to first assess whether someone is qualified for a job and also gives the applicant an opportunity to explain his or her record.

Standards for Hiring

"Most employers generally want to do the right thing and hire the right person for the job," said Pamela Devata, an employment attorney and partner at Seyfarth Shaw LLP. Employers, she said, are wondering: "Do you ask [about a criminal record], when do you ask, and what do you ask?"

Since the creation of the U.S. Equal Employment Opportunity Commission (EEOC) in 1965, employers have been legally obligated to evaluate all job applicants without bias. In 2012, the EEOC issued guidelines on the proper use of criminal records in hiring decisions, which recommended individualized assessments of candidates to provide them with the opportunity to provide additional information related to their records that might ameliorate concerns about hiring them. But conducting such assessments can be a real challenge for employers, especially when it comes to creating and implementing a time- and cost-effective assessment process.

Despite these challenges, though, many large companies have successfully integrated individualized assessments into their hiring processes. Dena R. Hong, an attorney for United Parcel Services (UPS), said UPS has been doing individualized assessments for a long time: the company hires individuals with criminal records, but it then must determine where they can be placed (some of UPS's customers have strict standards about who is and isn't allowed onsite). "We won't fire an employee who meets our standards but doesn't meet our customer's stringent requirements," Hong said. "UPS is big enough to absorb these challenges." Hong noted that smaller companies may not have as many opportunities for worksite placements for their employees.

Lew Maltby, of the National Workrights Institute, described the difficulty for employers. "If you don't hire this population, the EEOC can sue you," he said. "If you do hire and there's an issue, you risk negligent hiring claims. If you do hire, but the processes are not clear, the Fair Credit Reporting Act will come after you—and that's why employers should look at the Best Practice Standards in considering records in hiring decisions." The Best Practice Standards clearly delineate the steps for conducting individualized assessments of candidates and other important, legal considerations for employers.

Innovative Partnerships

"We need to reach out to the business community and find out from them what the impediments are to hiring," said Judge Michael P. Boggs, who sits on the Georgia Court of Appeals and is co-chair of the Georgia Council on Criminal Justice Reform.

It's important for community service providers interested in partnering with businesses to understand the challenges employers face when they make hiring decisions. These providers can then use employer feedback to inform programming, including job-skills training, screening processes, and referrals.

Scott Nikaido, corporate compliance manger at Barnhart Crane and Rigging, a Tennessee-based supplier of lifting and transportation services, described his company's partnership with the workforce development service provider Economic Opportunities to identify candidates interested in receiving training. At the end of the Economic Opportunities program, candidates meet with job developers and are placed in jobs either at Barnhart or at another local employer. "We get to watch them for six months, then pick the cream of the crop [to hire]," said Nikaido.

How to Host Similar Conversations in Your Jurisdiction The Southern Regional Summit on Fair Hiring was hosted by the Legal Action Center's National H.I.R.E. Network, with support from the National Reentry Resource Center, a project of the Council of State Governments Justice Center that is administered by the U.S. Department of Justice's Bureau of Justice Assistance.

The event is part of the growing conversation across the country between business leaders and policymakers on improving employment outcomes for individuals with criminal records. It was modeled after an event held in June 2014 at the White House and was inspired by "State Pathways to Prosperity," an initiative of the Council of State Governments, which is supported by the CSG Justice Center's Reentry and Employment project.

To learn more how you can host similar conversations in your jurisdiction, click here, or contact Stephanie Akhter for more information.

For additional resources provided at the Southern Regional Summit on Fair Hiring, click here.

To learn about the White House event, click here.