SUPPORT Act Section 1003 Demonstration Project Post-Planning Period Notice of Funding Opportunity
Prospective Applicant Informational Webinar: July 29, 2021
Letter of Intent to Apply Due Date: August 5, 2021
Electronic Application Due Date: August 20, 2021, 3:00 pm Eastern Standard Time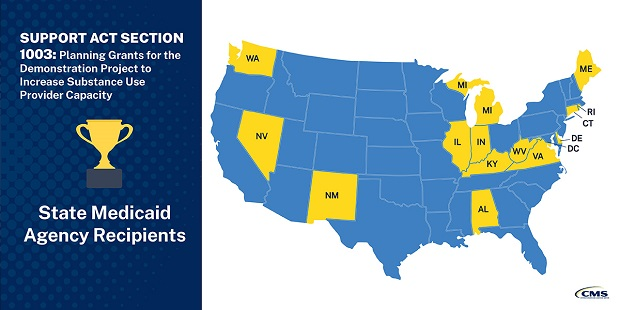 On October 24, 2018, the Substance Use Disorder Prevention that Promotes Opioid Recovery and Treatment for Patients and Communities (SUPPORT) Act became law. Under section 1003 of the SUPPORT Act, the Centers for Medicare & Medicaid Services (CMS), in consultation with the Substance Abuse and Mental Health Services Administration and the Agency for Healthcare Research and Quality, is conducting a 54-month demonstration project to increase the treatment capacity of Medicaid providers to deliver substance use disorder treatment and recovery services. The demonstration project includes planning grants awarded to 15 states ($50 million aggregate) for 18 months and 36-month demonstrations with up to 5 states that received planning grants. 
In support of the second phase of the project, the Centers for Medicaid & Medicare Services (CMS) released a notice of funding opportunity to solicit applications for participation* in the 36-month post-planning period o increase the treatment capacity of providers participating under the Medicaid state plan (or a waiver of such plan) to provide substance use disorder (SUD) treatment and recovery services, as originally described in NOFO CMS-2C2-19-001 (Planning Period) [PDF].
Access the funding announcement and additional resources
*Note: Only the 15 states currently participating in the planning period are eligible to apply for this funding opportunity (AL, CT, DE, DC, IL, IN, KY, MA, MI, NV, NM, RI, VA, WA, and WV).