Solutions: American Leaders Speak Out on Criminal Justice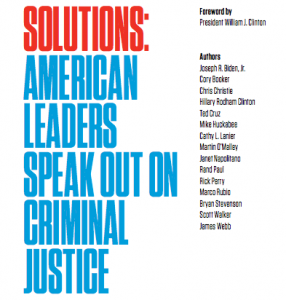 This publication from the Brennan Center for Justice is a collection of essays on mass incarceration from prominent figures and experts from across the political spectrum. A bipartisan collaboration, the essays reflect a political shift from the punitive policies of the 1980s and 1990s. The essays also propose ideas on how to address the problem of mass incarceration in the country. Contributors include:
Joseph R. Biden, Jr.
Cory Booker
Chris Christie
Hillary Rodham Clinton
Ted Cruz
Mike Huckabee
Cathy L. Lanier
Martin O'Malley
Janet Napolitano
Rand Paul
Rick Perry
Marco Rubio
Bryan Stevenson
Scott Walker
James Webb
To view the publication, click
here
.