Prevalence, Comorbidity, and Continuity of Psychiatric Disorders in a 15-Year Longitudinal Study of Youths Involved in the Juvenile Justice System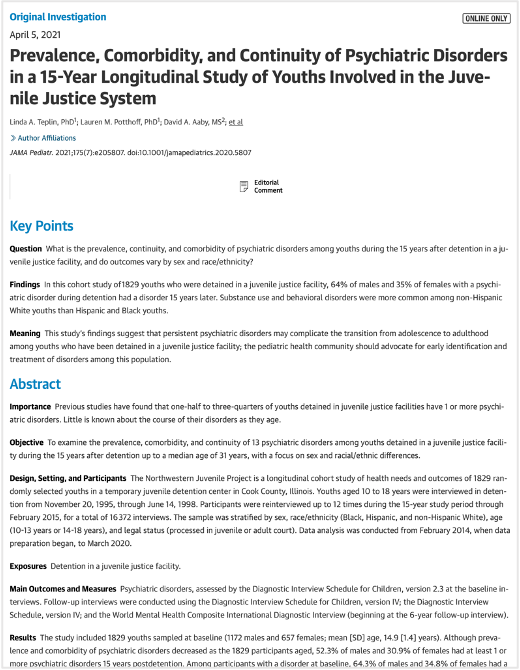 According to this article from the research team at the Northwestern Juvenile Project, youths involved in the juvenile justice system have a substantially higher prevalence of psychiatric disorders compared with those in the general population, with 45%–66% of males and 45%–73% of females in the system meeting the criteria for one or more psychiatric disorders. The study notes that, while anxiety, mood, and behavioral disorders are prevalent, substance use disorders (SUDs) are the most common, affecting up to 50% of males and 22% to 46% of females. Further, comorbid psychiatric disorders are also common, with as many as 34% of males and 60% of females in juvenile detention facilities having three or more disorders. This article notes that less is known about the course of psychiatric disorders after youths leave detention facilities, with findings from past research inconsistent.
According to the authors, this study's findings suggest that persistent psychiatric disorders may complicate the transition from adolescence to adulthood, which is already challenging for youths involved in the juvenile justice system, many of whom are from racial/ethnic minority groups and low-income backgrounds. They assert that the pediatric health community should advocate for early identification and treatment of disorders among youths in the justice system.
The Northwestern Juvenile Project was a longitudinal cohort study of health needs and outcomes of 1,829 randomly selected youths in a temporary juvenile detention center in Cook County, Illinois. Youths ages 10–18 years old were interviewed in detention from November 20, 1995, through June 14, 1998. Participants were re-interviewed up to 12 times during the 15-year study period through February 2015, for a total of 16,372 interviews. Data analysis was conducted from February 2014, when data preparation began, to March 2020.