For Dave's Killer Bread, Giving 'Second Chances' Leads to Loyal Employees, 'Exponential Growth'
By Ashleigh Fryer, CSG Justice Center
When Genevieve Martin came on board at Dave's Killer Bread as its retail and café manager eight years ago, she did what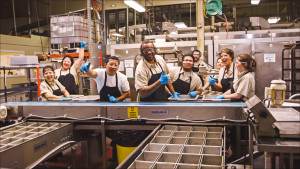 most people do in their first week on the job—she met the staff. Of the approximately 100 people she got to know in those first weeks, one stood out to her immediately. He'd started around the same time as she did, doing entry-level work in the company's ovens department—the most physically taxing place to work in the bakery.
At 50 years old, it was hard not to notice him among his co-workers in the department, who were all in their early 20s.
"All the other guys would play around and take bets on how long the 'old man' would stick around," Martin said. "But he never complained, he was on time every day, and he did the work. Three weeks in they realized, 'We'd better teach him the whole job, because he's not going anywhere.'"
After seven years, that same man worked his way up to hold the highest-ranking position on the company's operations team. Then, unsurprisingly to Martin, he was recruited away to an even higher position in another company.
"It's bittersweet, but also exciting to know that this was the place that helped set him up for success," Martin said.
What also didn't surprise Martin when she first met him was that he'd just been released from prison. That's because one-third of the company's employees have some sort of criminal background.
"You want your workforce to be representative of your consumer base," Martin said. "If one in three adults are impacted by the justice system, that means those people are going to be in your talent pool. If you're not looking at them, you're missing out."
_____________________________________________________________________________________
Back in 2010, Dave's Killer Bread was at the very beginning of what Martin calls its "exponential growth" period. Over the next four years, the Oregon-based organic bakery would go from having its products sold in just four states, to being sold in nearly half the states in the country as well as parts of Canada.
"What that meant was that we now had a huge set of job opportunities," Martin said. "To keep up with demand, we needed people, and we needed them quickly."
So, Martin and others at the company began reaching out to local organizations that were working with people who'd recently returned to the community after incarceration. Dave's Killer Bread already had a legacy of hiring people who had criminal backgrounds—co-owner Dave Dahl had himself been to prison four times before coming home and running the family bakery with his brother, Glenn, and had made it part of the company's mission to be a "second chance employer" by hiring other people who'd been involved in the justice system.
With those connections in place, the company was able to triple its staff in just a few years. As the staff grew, the brand grew. Today, Dave's Killer Bread is sold in all 50 states in the U.S. and in parts of Canada, thanks in no small part to the company's "people power," Martin said.
"The people we hired showed up, they worked hard, they referred their friends, and we had an incredible team because of that," Martin said. "It built employee and employer loyalty like few businesses get to experience."
During the job interviews she conducted and in her daily interactions with staff, Martin heard firsthand from employees about the impact their criminal records had on their job prospects. It crystallized for her the importance of investing in employees, regardless of their past. She recognized that being a "second chance employer" had a ripple effect, not just helping the business succeed, but also helping individuals build success of their own.
From that idea, the
Dave's Killer Bread Foundation
—of which Martin is now the executive director—was born. The foundation works to educate businesses on the practical side of second chance employment, and brings other second chance employers together to share strategies and contribute to what Martin calls a "second chance community."
"As a business representative, you have the power to change social norms on this subject," Martin said. "By hiring that person, you're helping them to be an asset to your business, their family, the community. But by not providing that opportunity, you're actually making it more dangerous."
_____________________________________________________________________________________
Although it was clear to Martin that Dave's Killer Bread's hiring strategy was working, in 2015 the company decided to go beyond anecdotal evidence and collect data related to employees' productivity and success.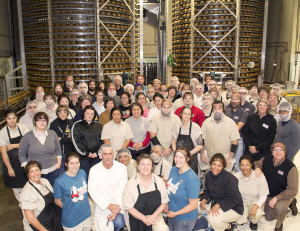 They found that, over a three-year-period, employees who had a criminal background received slightly fewer policy, attendance, or behavior violations—the three types of employee violations that are tracked at Dave's Killer Bread—than those who did not have a criminal background.
Martin was unsurprised once again.
"This is a group of people that understands what it's like to lose opportunities, to miss out and not be included in the workforce and the community," Martin said. "So, if they're ready for the opportunity and they get it, they're going to be some of the most motivated, dedicated people you could ever ask for on your team."
Like most employers, Dave's Killer Bread conducts background checks on job applicants, and the company's job applications previously asked applicants to disclose whether or not they had a criminal record until Oregon passed a "ban the box" ordinance in late 2015. But, in most cases, Martin said hiring managers know about the existence of a job applicant's criminal record before a background check is conducted because, due to Dave's Killer Bread's reputation in the community, applicants often feel comfortable disclosing the existence of their record early in the process. When those managers do find out an applicant has a record, they see it not as a deterrent, but as "an opportunity to have a candid conversation about that person's past and what they're looking for in the future," Martin said.
"We've learned that we get the best applicants when we have that conversation," she said.
While Martin has certainly learned how powerful individual stories and second chance employment can be during her time at Dave's Killer Bread, and subsequently through her work with the foundation, she said hiring people who have records doesn't have to be a campaign or an explicit initiative for other employers. The underlying concept is simple and easy to implement, she said.
"Find the right person for the job and when that background check comes back and you see they have a record, lean into it," Martin said. "If you felt like they were the right person for the job before you did that check, trust that instinct."