Reduce Job-Related Collateral Consequences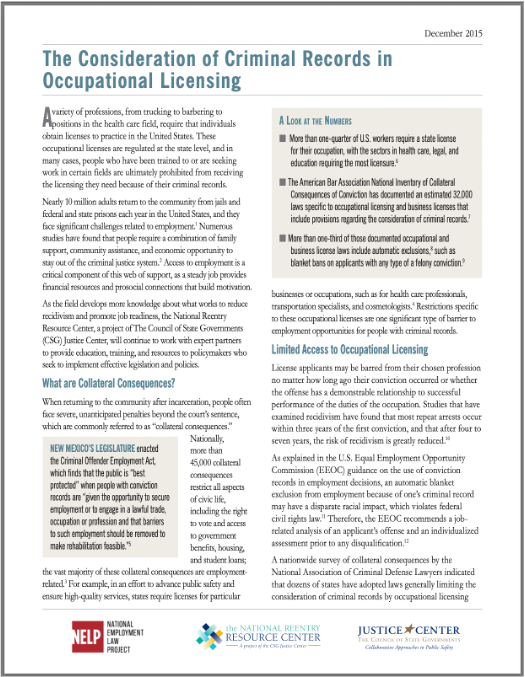 Collateral consequences are legal and regulatory sanctions and restrictions that limit or prohibit people with criminal records accessing employment, occupational licensing, housing, education, the ability to vote, and other opportunities. Some collateral consequences serve a public safety function, such as keeping firearms out of the hands of people convicted of domestic violence offenses, prohibiting people convicted of abuse from working with children or the elderly, or barring people convicted of fraud from positions of public trust. Others are directly related to the crime, such as driver's license restrictions for people convicted of a serious traffic offense or debarment of people convicted of fraud. But many collateral consequences apply to people convicted of any crime, and frequently do not take into consideration how long ago the crime occurred or the person's rehabilitation efforts since.
Collateral consequences are scattered throughout the codebooks and are frequently unknown even to those responsible for their administration and enforcement. They have been promulgated with little coordination in disparate sections of state and federal codes, which makes it difficult for anyone to identify all the penalties that may be triggered by a criminal record for a certain offense. Dozens of states have adopted laws generally limiting the consideration of criminal records by occupational licensing authorities. These laws frequently include prohibiting the denial of a license based solely on an applicant's criminal record unless there is a conviction that directly relates to occupation; prohibiting the consideration of certain criminal record information; requiring a licensing board to consider factors such as whether the offense is relevant to the occupation, the amount of time that has passed since the offense was committed, and evidence of rehabilitation; and requiring a licensing agency to supply an applicant with an explanation of denial and allow for an appeal process. More on the impact of collateral consequences can be found in the fact sheet, "The Consideration of Criminal Records in Occupational Licensing". 
In recognition of the ever-growing number of collateral consequences and people they affect, the The National Inventory of Collateral Consequences of Conviction was created to collect and analyze all collateral consequences on the books in all U.S. jurisdictions.