Strategies for Improving Reentry and Employment Outcomes Highlighted at Conference Workshop

The National Association of Workforce Development Professionals (NAWDP) hosted its 2014 Annual Conference, "Navigating the Rocky Road Together," bringing together more than 100 experts and practitioners in the workforce development industry to share research, best practices, and lessons learned on a broad range of topics in the field, including professional skill development, creating business partnerships, building capacity, and the employment of youth, veterans, individuals with criminal records.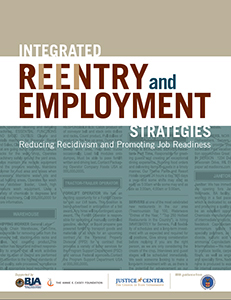 At the May event, Henry Rosen and Phoebe Potter from the Council of State Governments Justice Center (CSG Justice Center) co-presented the workshop, Integrated Strategies for Improving Employment and Reentry Outcomes Among Ex-Offenders. Together, they presented on the Integrated Reentry and Employment Strategies Framework, which was introduced in the CSG Justice Center's 2013 report, Integrated Reentry and Employment Strategies: Reducing Recidivism and Promoting Job Readiness. The framework provides guidance on how to bring together proven criminal justice approaches for reducing recidivism and promising practices for job readiness, while also ensuring that limited resource are used effectively to maximize impact on both workforce development and public safety outcomes.

NAWDP, a national association and leader for the workforce development industry, works to develop the professional capacity of workforce professionals who are seeking the highest standards of excellence in credentialing, applied learning opportunities, and cutting edge tools to serve job seekers and businesses.

Learn more and read the Integrated Reentry and Employment Strategies white paper. To learn more about the most recent and upcoming NAWDP conferences, click here.